Welcome to The Geometry Code website!

Welcome! If this is your first visit, you might want to read the Introduction: "Sacred Geometry Home Page" a tutorial on sacred geometry; it has been a favorite online introduction to this matrix of interwoven subjects since 1996 and contains excerpts from my first book, Sacred Geometry Design Sourcebook.
Recent GeometryCode posts

Thanks to geometer colleague and dream researcher, Ed Kellogg for alerting me to this very interesting (and fun) video "What Is Reality?" from Quantum Gravity Research (check out the lovely video loop of a slowly rotating polyhedron made of tetrahedra on their website's home page) – in addition to meshing interconnections with our faithful omnipresent proportion, the […]
Sacred Geometry Video, Animation, Movies
Latest GeometryCode Tweets
Sacred Geometry Post Categories
Sacred Geometry Resources
Sacred Geometry News
Our newly renovated site now has a sacred geometry blog for current events, news, and postings covering a wide range of interests around sacred geometry and interconnectedness. If you have news items, articles, links or musings to contribute, please contact us!
Sacred Geometry Events
My Events page has an extensive list of upcoming, ongoing and prior events related to sacred geometry and interconnectedness ... We're all inseparably interconnected!
You can always subscribe to my free monthly email bulletin for a variety of websites, books, media and much more of interest related to sacred geometry; archives of some of the past bulletins are here.
Many of my all-time favorite online sacred geometry info and resources are linked here.
Here are a variety of items you might find interesting and useful in the realm of books, screensavers, video, etc.
Sacred Geometry Screensavers and DVDs
The Geometry Code - Meditation Tool, Screen Saver, and eBooklet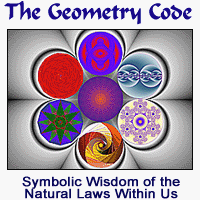 by Mika Feinberg and Bruce Rawles (creators of lightSOURCE and Sacred Geometry Design Sourcebook)

Praise for The Geometry Code screensaver, meditation tool and eBooklet

More info about The Geometry Code - Meditation Tool, Screen Saver, and eBooklet

More Screen Savers (by LightSOURCE)
Sacred Geometry Video Patterns
If you use Final Cut Pro® (a registered trademark of Apple Inc.) to do video editing, here are collections of Geometric Video Patterns (images for gradient wipe transitions). These transitions can greatly enhance your production with visually appealing proportions based on the same principles used by Renaissance master artists; now you can use them with today's ubiquitous art form - video! Available now in SD (Standard Definition; NTSC 720 x 480 pixels) and by request in "HD" (High Definition; 1280 x 720 pixels) flavors!

Digital Audio download:
Sacred Geometry and Sound Healing :
How Ancient Hermetic Laws, Quantum Physics and
Universal Symbolic Archetypes all converge in Your Optimum Wellness
Sacred Geometry Books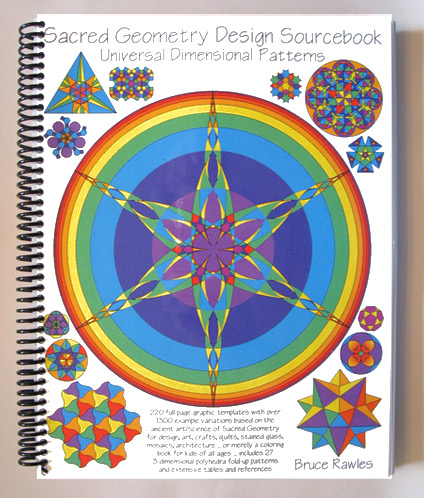 Sacred Geometry Design Sourcebook - Universal Dimensional Patterns
My first book, Sacred Geometry Design Sourcebook - Universal Dimensional Patterns, is a great experiential introduction to the subject of sacred geometry, as well as a timeless reference for readers of all ages with a wide variety of interests.
Don't miss the Free Samples section. This section includes compilations of the Platonic and Archimedean foldup patterns; these are gathered in 2 easy-to-download (and free!) files in addition to all the individual files.
Sacred Geometry Tutorial

... and last but not least, if you haven't already seen it, you might want to spend a few minutes with my Sacred Geometry Tutorial (Home) Page; an introduction to the subject I've had online since about 1996.
---
Connect with us on social media: